The art of making cocktails, with a pinch of madness. Throws, catches, bar tricks: from Working to Exhibitions, up to the modern Craft Flair, here's how to become an acrobatic barman and build a fascinating career in the world of mixing.
Here's who the Flair Bartender is and what he does
You probably already have an idea: never seen it the 1988 movie Cocktail? A young Tom Cruise plays Brian Flanagan, a bartender skilled in making cocktails with spectacular acrobatic techniques. These scenes have remained in the collective imagination and we still see the flair Bartender – also often referred to Acrobatic bartender – like a star making oneshow behind the counter leaving customers speechless. Obviously scenes like this are not on the agenda, but this film had the merit of popularizing the Flair movement worldwide and starting its future evolutions. So, what does the Flair Bartender or Acrobatic Barman do? Prepare cocktails and other types of drinks, such as the "simple" Bartender. But he does it using acrobatic techniques that make the preparation highly spectacular. If you want to learn more about the different specializations in the bar world, from the Mixologist to the Bar Manager,Click here.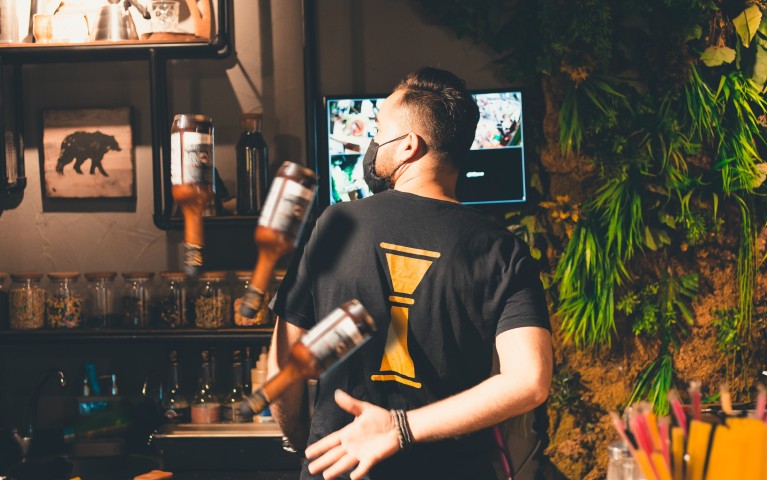 Working, Exhibition, Craft: Flair and its Evolutions
Modafinil is also called: Provigil, Modalert and Modvigil. It is a drug that is used to treat narcolepsy. Modafinil (Provigil) is FDA approved. We only choose reliable suppliers who provide us with all the necessary documentation and carefully check the quality of each product.
Fast delivery, low price and complete anonymity are important factors in preventing you modafinil online purchase to visit our pharmacy. The first one or three methods the human body cannot properly use the new opportunity to optimize the work, which provides a strong nootropics – Modafinil.
Over the years, between ups and downs, flair bartending has been characterized by various evolutions and specializations. But what is the meaning of Flair Bartender? By itself, the word "flair", depending on the contexts, it can mean talent, nose, style, attitude, elegance: all characteristics that return its free and creative genesis. The risk, however, that is what should be a plus in making a good drink, you just become a show for its own sake,disconnected from daily work.
There are essentially two types of flair: theWorking Flair and theExhibition Flair. From Working was then born the craft, which is the most popular methodology in this period. Each of these types of flair has its own peculiarities in terms of showmanship, technique, tools, safety and interaction with the customer:
The Working Flair is a working methodology characterized by acrobatic techniques, especially withbottles And shaker. It is aimed at construction of drinks and there are no rotations of the bottles.
The Exhibition Flair it is a working methodologyhighly spectacular, characterized by launches and rotations of the bottles. It has show purposes and is used during competitions, usually without building drinks.
TheCraft Flair instead it is an evolution of the Working: it has apractical cut, smoother movements and includes all the tools for building the drink, optimizing the relationship between speed, quality, spectacularity, safety and the possibility of interacting with the customer.
Basic, Craft is the most used and most usable flair bartending technique globally, in everyday work.
Why Become a Flair Bartender? Because it's the best there is!
If the Barman is one showman and the counter its stage, the Flair Bartender is the star. If you've seen him live at least once, you know what we're talking about. If you have never seen it, we recommend that you go to the best clubs and discos to witness a preparation in flair. Nowadays being a Flair Bartender means knowingalso take care of aesthetics and communication to the maximum, as well as knowing how to make excellent drinks. Flair is no longer seen only as a show for its own sake, on the contrary:the goal is to make perfect cocktails with techniques of strong visual impact and functional to the construction of the drink. Basically you don't let a glass or a bottle fly just for the sake of it: that movement is used to prepare the cocktail! Iotherwise it could be perceived as a useless and self-centered waste of time. The Flair Bartender is therefore a Bartender, a Barman with high skills, an absolute protagonist of the bar able to delight customers with all the senses.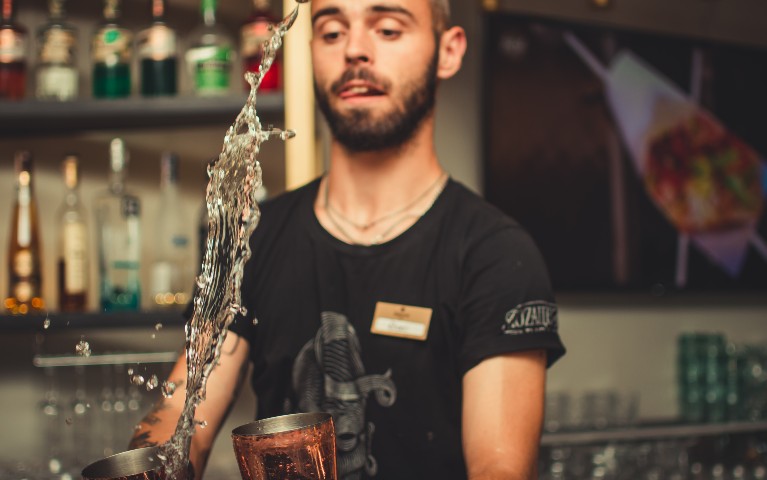 How to become an Acrobatic Barman? Courses, Study and Commitment!
It is clear that becoming a good Flair Bartender is necessary develop basic skills first: the self-taught path is highly discouraged, while it is preferable to choose an acrobatic barman school and a bartender and mixology course that puts the cocktail at the center of the preparation. Choosing a flair bartending academy is the preferable option: as mentioned, today the market above all requires expert figures in the Craft Flair, or that working methodology that puts acrobatic techniques at the service of creation of mixology-style drinks. It means that to get to Flair you will have to start a training course that starts fromBasic Bartending (where you learn basic skills), go through theMixology (where you learn to make recipes with advanced and personalized techniques) and finally get to Craft Flair, to become an expert stunt barman. As for the other bar professions, it is not essential to have attended hotel management school. So how do you become an acrobatic barman? The really important thing is to study and commit yourself and the best way to do this is to choose a targeted training course, which in a defined period of time will lead you to the desired result.
Here's What A Flair Bartending Course Involves
The courses to become an acrobatic barman are developed in theoretical-practical modules for the acquisition of specific skills. In particular, in a Craft Flair course such as the one organized byBarproject Academy, 7 basic notions are acquired:
Theoretical skills (what is flair and why is it used);
Communication skills (posture, dialogue, non-verbal language, metacommunication);
Psychophysical skills(concentration, warm-up, stretching, coordination);
Organizational skills (set up of workstation and tools);
Technical skills (learning flair techniques);
Mechanical skills (application of flair to the construction of drinks;
Advanced skills (multiple drinks in flair together, drink making order).
Opting for a complete course in an acrobatic bartender school is the right choice to assimilate one 360° knowledge on this profession, and learn not only the technical skills but notions on the equipment, mixology and the basics of bartending.
Work and Career Prospects: If You Aim for the Best, You Better Become a Flair Bartender.
A Flair Bartender, due to the specific skills he possesses, has many more job opportunities than a fellow Bartender "simple". It is not easy to find truly competent figures in the Craft Flair around and, for a local, a professional of this type represents a value added. Not only that: with Flair Bartending, the doors of theglobally top venues and major international events, those for which maximum skills are required. A challenging course, but very rewarding.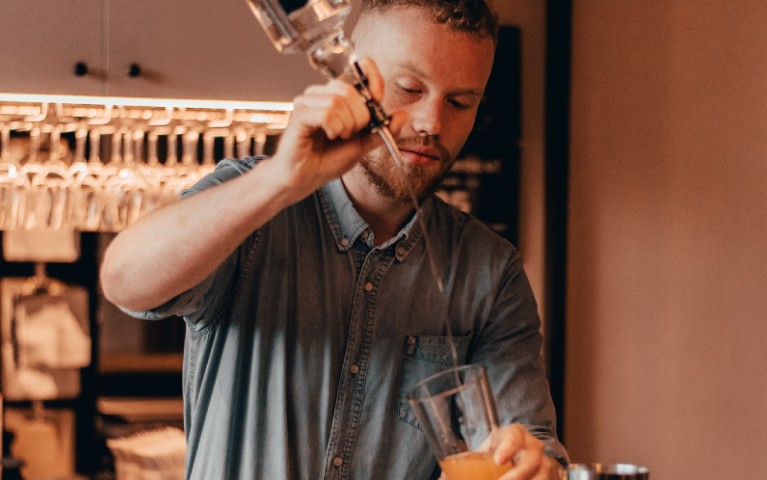 How Much Does an Acrobatic Bartender Earn?
For the skills he possesses, a Flair Bartender has earning potential much greater than a "simple" Bartender. Obviously, it depends on the type of service for which the performance is requested. In principle, the minimum salary is around 70 euros per evening, the maximum even up to 140. Different speech for stable partnerships which can lead to salaries of up to 1800 euros per month and more. A lot depends on the skills, the type of venue and the country where you are.
Tips and Secrets to Become a Good Flair Bartender
A Flair Bartender is not a Bartender like everyone else. He's always in the spotlight, his eyes are on him. It takes commitment and passion to become good at this job and you also need a lot communicative attitude. You can't think of being a Flair Bartender without interacting with customers. It's not cinema, it's theatre: the spectators are there in front of you waiting for your creation. The advice is therefore to immediately study the basics of verbal and non-verbal communicationto understand how every little movement, every look and every posture is significant for who you are in front of. Study, read books, watch videos and, if you can, see a real acrobatic bartender in action!